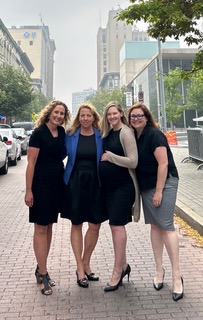 Pinsky Smith PC is the region's premiere labor law firm.
Attorneys in our firm have represented the rights of employees and unions since the 1960s. We believe in economic fairness and have proudly fought to preserve the rights of working people for more than a half century. We represent more labor organizations and have more experience supporting employees in contract and discrimination claims than any firm in the region.
Beyond labor law, we're tireless advocates for civil rights, successfully representing both individuals and groups in important civil rights cases throughout West Michigan.
Our reputation draws upon the legacies of notable lawyers and former partners Robert Kleiner, Edward (Ned) Smith, and the Hon. David Soet. With the retirement of Rhett Pinsky, and Michael Fayette, both of whom remain "of counsel," the firm today includes shareholders and noted litigators Katherine Smith Kennedy, Sarah Riley Howard, Crystal Bultje, and Erin Dornbos, who build on the firm's legacy in workplace law, labor law, civil rights claims, and criminal defense. 
Be in touch, and let us know how we can help you.
The information on this site is not intended as legal advice.  If you need legal help, we need to know the details of your situation and have an opportunity to determine if we're able to represent you. Get in touch if you need help; we'd like to hear from you.