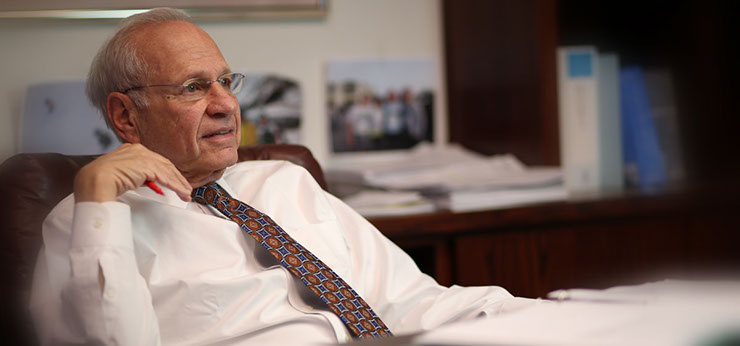 H. Rhett Pinsky
Rhett Pinsky likes to his spend time where he can make the greatest difference. It's why for more than 50 years, he focused his career on protecting the rights of workers, pursuing and winning cases that have an impact that resonates beyond the case itself. He brings honesty, empathy, reason, and reliability to his work with clients. He's the kind of guy that is sure to call you back—within the same day. With a long history of civic involvement, Rhett has served on the boards of Arbor Circle, the Red Cross, the Civic Theatre, and more. He and his wife Jeralyn, an actress and director in community theatre, have two sons, and four grandchildren. At the end of the day, you might find Rhett skiing, working out, or reading, depending on the season. But don't search for him on social media, you won't find him there. Upon his retirement in 2020, Rhett now serves as "of counsel" to the firm.
Expertise
Workplace discrimination
Wrongful termination
Education
BA, Princeton, 1959
JD, Harvard Law School, 1962
Memberships
Grand Rapids Bar Association, member, past president (1992-94)
State Bar of Michigan
Federal Bar Association, Western District of Michigan
Recognition
Lifetime Achievement Award, Justice Foundation of West Michigan (2017)
Champion of Justice Award, State Bar of Michigan (2016)
Donald R. Worsfold Award, Grand Rapids Bar Association (2015)
Michigan Super Lawyers
Best Lawyers in America
Distinguished Service Award, Labor and Employment Law Section, State Bar of Michigan (2007)
Certified facilitative mediator for the US District Court for the Western District of Michigan (1995-present)
Grand Rapids Bar Association, president (1993-94)
Appointed by Michigan Supreme Court to serve on Michigan Attorney Grievance Commission (1978-85)
Grand Rapids Public Schools Board of Education (1978-84)
Michigan State Bar Foundation, trustee
United States Marine Corps (Reserve), Captain (1963-66)
Cases of note
ALLARD & GRAHAM v. MICHIGAN HOUSE OF REPRESENTATIVES, U.S. District Court in Grand Rapids
COMMUNITIES FOR EQUITY, ET AL. v. MHSAA, US District Court, Western District of Michigan. Rhett served as local counsel to Plaintiffs in this public interest litigation over the treatment of girls in high school sports in Michigan. Although a number of improvements in equity were made to girls' sports opportunities and resources as a result of the case, it is perhaps most famous for resulting in changes to seasons in high school basketball and volleyball, among others. After a 2001 bench trial following settlement of several other claims, Judge Richard Alan Enslen found that the MHSAA had been unlawfully discriminating against girls in its placement of them in less advantageous seasons than boys. The MHSAA lost its appeals, including to the U.S. Supreme Court.
LENA BRADFORD v. CHALLENGE MANUFACTURING, US District Court, Western District of Michigan. Lena Bradford was fired after taking a two-week FMLA leave to help take care of her adult daughter, who was pregnant with twins and placed on bed rest. After a 2010 jury trial, Rhett won Ms. Bradford's FMLA claim against her employer and the court awarded her back pay and lost benefits with interest, plus her attorney fees.
GRAND RAPIDS FIRE DEPARTMENT CLASS ACTION, US District Court, Western District of Michigan. In 1972, Rhett filed a class action suit on behalf of African-American fire department applicants, alleging that the city's methods of recruiting, testing, and selecting applicants for firefighter positions was racially discriminatory. On January 19, 1974, the Court entered a consent decree requiring implementation of an equal opportunity program and use of a better entrance exam. In 10 years, the GRFD was able to increase its minority membership to more closely reflect the community it served.
WHO'S WHO IN AMERICAN LAW • BEST LAWYERS OF AMERICA • LAWYERS OF THE YEAR
TOP 100 MICHIGAN SUPER LAWYERS • AV PREEMINENT—MARTINDALE HUBBELL'S TOP RATING
Top 50 Women Lawyers in Michigan • Rising Stars