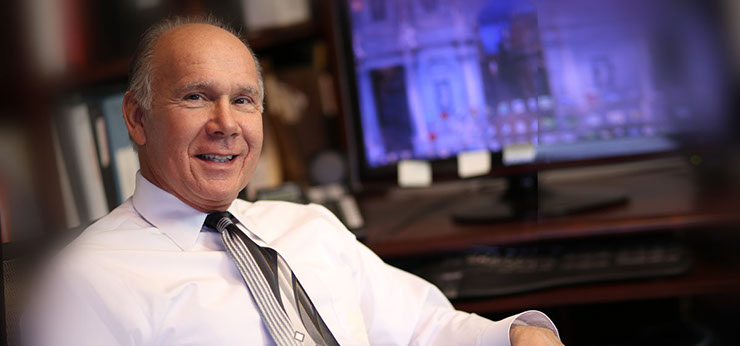 Michael L. Fayette
Michael Fayette's goal is to bring new and realistic solutions to the seemingly intractable, real-world problems his union clients face in the workplace—from negotiating labor contracts to protecting workers' retirement benefits. His warmth and approachability are hallmarks of his personality—and that's reflected in his exceptional relationships with a wide range of union clients. He's accessible. A great listener. And cares deeply about finding effective, workable solutions that honor working families. Mike and his wife DeeAnn enjoy hiking, walking, biking, and are actively engaged in building a diverse and caring community around themselves and their family. They've raised five adventurous and accomplished children and have two grandchildren. If you're looking for Mike after hours, you'll likely find him outdoors. Recently retired, Mike continues to serves as "of counsel" to the firm.
Expertise
Labor law
Negotiation and enforcement of labor union agreements
Employee Retirement Income Security Act (ERISA) litigation
Education
BA in business, Michigan State University, 1972
JD, University of Detroit School of Law, 1975
Memberships
State Bar of Michigan
Federal Bar Association, Western District of Michigan
AFL-CIO Lawyers Coordinating Committee, Washington, DC
Recognition
Top "AV" rating by Martindale-Hubbell (since 1980s)
Best Lawyers in America (since 1989)
College of Labor Employment Lawyers, inductee
Top 100 Michigan Super Lawyers (2006)
Lawyer of the Year, Grand Rapids Labor Law/Union (since 2011)
Clients
UAW Region 1-D; Teamsters 7, 214 and 406; IUE-CWA 4034; Plumbers and Steamfitters 174; IBEW 275 and 1392; Carpenters Local 1615, 1701, 2535, and 2776; Western Michigan University Chapter, American Association University of Professors, Kalamazoo Valley Community College Faculty Association, Bakery Workers Local 70; IATSE No. 26, 274. Grand Rapids Community College Faculty Association and Grand Rapids Community College Employee's Benefit Association.
Cases of note
UAW v. BOSCH settlement. Secured $65 million payment to trust fund to provide lifetime medical benefits for 900 retirees where a neutral board of trustees now controls a fund shielded from future bankruptcy or change in ownership.
BENDER ET AL. v. NEWELL WINDOW FURNISHINGS, US District Court, Western District of Michigan. Secured the lifetime medical benefits and Medical Part B reimbursement and return of premium and other overcharges for 500 retirees of the former Kirsch curtain rod plant in Sturgis after purchase and closure of the facility. Successfully defended appeals to 6th Circuit and U.S. Supreme Court.
UAW v. CADILLAC MALLEABLE IRON CO., 6th Circuit Court. Won determination in District Court that the employer had promised lifetime medical benefits to employees under its collective bargaining agreements and could not unilaterally change or cancel those benefits.
WHO'S WHO IN AMERICAN LAW • BEST LAWYERS OF AMERICA • LAWYERS OF THE YEAR
TOP 100 MICHIGAN SUPER LAWYERS • AV PREEMINENT—MARTINDALE HUBBELL'S TOP RATING
Top 50 Women Lawyers in Michigan • Rising Stars