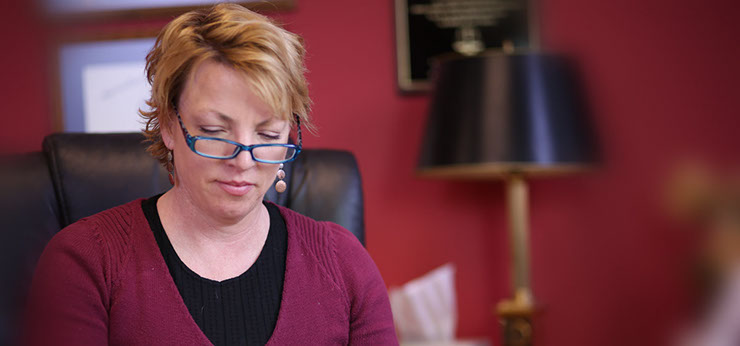 Katherine Smith Kennedy
Experienced in a broad range of workplace law, including gender and other discrimination claims, Katherine Smith Kennedy finds particular satisfaction in wage-and-hour claims—cases that allow her to make a real difference in a family's long-term economic security. She's a team player who works well with people on both sides of the desk. She's a diligent advocate and values open, direct communication, responsiveness, and trust. She shares her time and talents as a volunteer in several organizations. A lover of the arts, she's a member of the board of SECOM Resource Center and a former board member of Grandville Avenue Arts & Humanities. And she's active in the legal community— serving as the former president of the local chapter of the Federal Bar Association and mentoring young attorneys through the Hillman Advocacy Program, recently serving as the program chair. She's a strong political advocate and fosters civic engagement in her children—inspiring the next generation to speak out for causes they believe in. Outside of work she and her husband Brady enjoy being with their two nearly adult children and extended family, traveling, watching football, hiking, camping, and spending time at the beach.
Expertise
Employment law
Severance package review
Physician contracting review
FLSA, unpaid overtime, wrongful discharge, discrimination, and retaliation claims
Labor representation: union arbitration and collective bargaining
Education
Bachelor of Fine Arts, University of Michigan, 1989
JD, Southern Illinois University, 1995
Memberships
SECOM Resource Center, board of directors, (2019-present)
Labor and Employment Section, chair Grand Rapids Bar Association (2008-present)
Federal Bar Association, Western District Michigan, past president (2010-2011), Bench Bar Conference chair (2011, 2014, 2017, 2021, 2024) and executive board (2007-present)
Hillman Trial Advocacy Program, faculty and steering committee member (2012-present)
Hillman Trial Advocacy Program, chair (2021-2022)
U.S. District Court, Committee on Voluntary Facilitative Mediation (2019-present)
State Bar of Michigan, District Character and Fitness Committee (2009-2018)
Cooley Law School, Professional Advisory Committee
Grandville Avenue Arts & Humanities board (2005-2017)
Recognition
AV Preeminent Peer Review Rating, Martindale-Hubbell (2010-present)
500 Leading Plaintiff Employment Lawyers, Lawdragon (2019-present)
Leading Lawyer, Leading Lawyers Network Magazine (2019)
Lawyer of the Year for Labor Law, Best Lawyers (2017-present)
Respected Advocate Award, Michigan Association for Justice (2012)
Presidential Achievement Award, National Federal Bar Association (2011)
Best Lawyers in America (2011-present)
Michigan Super Lawyers (2011-present)
First female Western District FBA Chapter President (2010)
Cases of note
HUIZINGA v. GENZINK STEEL SUPPLY & WELDING CO., US District Court, Western District of Michigan. After a bench trial, Kathy won a verdict on a breach of fiduciary duty claim brought by a chief financial officer against his former employer to expose problems in management of his employer's 401(k) program. The Court awarded $320,000 to be returned to the 401(k) program and distributed to company employees.
CARLSON ET AL V. LEPRINO FOODS CO., US District Court, Western District of Michigan. Representing more than 70 Plaintiffs when the employer refused to pay overtime to their employees. Successfully litigated and settled the claims which included obtaining back wages, liquidated damages, and attorneys fees and costs for her clients.
Kathy has handled 90 cases in federal court in the last 10 years on behalf of employees and unions, and has obtained favorable verdicts and settlements on behalf of her clients.
WHO'S WHO IN AMERICAN LAW • BEST LAWYERS OF AMERICA • LAWYERS OF THE YEAR
TOP 100 MICHIGAN SUPER LAWYERS • AV PREEMINENT—MARTINDALE HUBBELL'S TOP RATING
Top 50 Women Lawyers in Michigan • Rising Stars